Brothers Against The Raj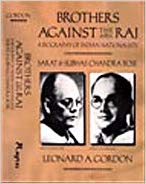 Subhas Chandra Bose and his brother Sarat were among the most important leaders of the Indian struggle for independence. Brothers Against the Raj is the definitive biography of the Bose brothers, placing them in the context of the Indian freedom struggle and the turbulent international politics of the period. Leonard A. Gordon uses material gathered from archives, records and over 150 interviews he conducted with the brothers' political contemporaries and family members, as well as hundreds of unpublished letters, to bring to life once more two of India's most controversial leaders during one of the most significant epochs in Indian history.

A distinguished book Mr. Gordon is a thorough scholar one of the books of the year for 1990. Gordon has done full justice to the Bose brothers, giving them their due and recounting their story in the context of the turbulent times in which they lived. Professor Gordon has conducted exhaustive and painstaking research and put its fruits into an eminently readable book. Besides, he has skilfully put the story of their lives into the context of the complex politics of India and Bengal of their times.

The author is a New Yorker but knows Calcutta well The entire distinguished family seems to come alive as he writes, but he is careful to paint them with their warts intact. An extraordinary, informative, and insightful study of Subhas and Sarat Bose. I have found the book informative and absorbing. [ Gordon has] managed to combine empathy with objectivity- not an easy feat.

About The Author :

Leonard A. Gordon is professor of history at Brooklyn College, The City University of New York; associate of the Southern Asian Institute, Columbia University; and director of the Taraknath Das Foundation. Dr. Gordon has published several books. Bengal: The Nationalist Movement (1876-1940) was awarded the Watumull Prize by the American Historical Association in 1974.
We deliver Books and accessories by Speedpost or DTDC. Flat Shipping charges Rs.105/- is for city Kolkata address only.
For state and city,delivery charges will be varry as per weight and actual charges by delivery Service Provider.
Send Enquiry/Order to info@booksandpublishers.com or call us/Whats App : +91 7890 222 444/ +91 98300 31563