101 Inspiring Stories (Marathi)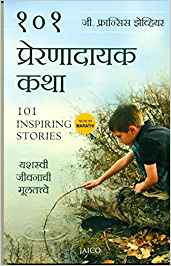 Now in Marathi

This is one of the many inspiring books from the renowned "Motivator" Dr. G. Francis Xavier. Evidently, this harvest of stories has been gleaned from lands he visited and books he read. Xavier, who conducts full-house personal growth courses has brought out this compendium in an interactive form, making the reader give the answers at the end of the story, which is a novel approach. Stories and examples are the best way to inspire, and this volume can be gifted to anyone. It is useful for preachers, speakers and teachers.

The book appeals to readers of all ages except the morose and irredeemable negaholics (negative thinking addicts) and anti-reading teenagers. It has stories to inspire and promises uninterrupted chuckles till the end. There are also quotations on success.
We deliver Books and accessories by Speedpost or DTDC. Flat Shipping charges Rs.105/- is for city Kolkata address only.
For state and city,delivery charges will be varry as per weight and actual charges by delivery Service Provider.
Send Enquiry/Order to info@booksandpublishers.com or call us/Whats App : +91 7890 222 444/ +91 98300 31563