24 Discoveries that Changed the World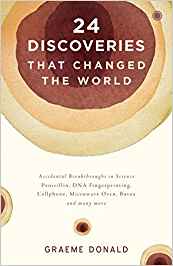 Accidental Breakthroughs in Science Penicillin, DNA Fingerprinting, Cellphone, Microwave Oven, Botox and many more

Have you wondered how some of the greatest products that we know of today actually came about?

And often it is as much down to chance as it is about a single person's brilliance. 24 Discoveries That Changed the World is a fascinating read on the chance discoveries of the world.

Meet some of the extraordinary minds behind the famous inventions and innovations. From penicillin to post-it notes, and from Botox to cellphone, the book explores the role of chance and error in scientific, medical and commercial innovations, and how some of the world's most popular and significant inventions came to be.

We deliver Books and accessories by Speedpost or DTDC. Flat Shipping charges Rs.105/- is for city Kolkata address only.
For state and city,delivery charges will be varry as per weight and actual charges by delivery Service Provider.
Send Enquiry/Order to info@booksandpublishers.com or call us/Whats App : +91 7890 222 444/ +91 98300 31563